[American Idol] Where Are They Now?
By: Vicky S.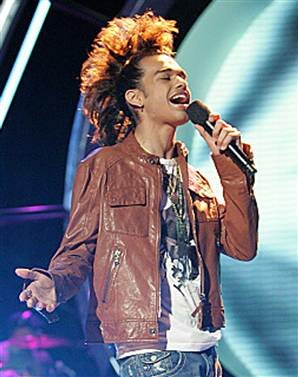 Sanjaya Malakar (Seventh Place)
Successful? NO
Sanjaya's American Idol CD album "Sanjaya Malakar", and some singles were offered on iTunes starting June 10th, 2007. The Sanjaya Malakar album has reached Top 100 Pop Albums in sales. Sanjaya and his sister, Shyamali, are planning to sing together in the future. He plans on going to the Berklee College of Music with her.
Haley Scarnato (Eigth Place)
Successful? NO
Haley released an album in 2008 called "StrongHeart", but we haven't been able to hear it yet.
Gina Glocksen (Ninth Place)
Successful? NO
She is currently working on original material. One song 'When It Rains" has been performed on American Idol Extra.
Chris Sligh (Tenth Place)

Successful? YES

Chris signed a solo deal with Brash Music. The resulting album, titled "Running Back To You" was produced by Brown Bannister, who has won multiple Grammy and Dove Awards. His first single spent nearly 4 weeks in the top 10 on the iTunes Christian/Gospel chart, while his first week sales for the album came in at 4,100, making him one of the top Christian debuts of 2008 to date.
Stephanie Edwards (Eleventh Place)
Successful? NO
After American Idol, Stephanie recorded a charity single called "On Our Way" which became available in early-October 2007 as a CD single on eBay. Sales of the album benefit the Leukemia and Lymphoma Society's Light the Night Walk. Her second single, "Here I Am", was released in April 2008.
Brandon Rogers (Twelfth Place)

Successful? NO

On May 12, 2008 Brandon guest starred on the crime drama Bones on FOX. Brandon is set to appear (as a recurring character) on a web-oriented series, "Valley Peaks".





Have something to add to this article? Email the author!
Special Attention

Top 10 Cutest Celebrity Kids
By: Diana F.

Read full article
Be first to read new articles and subscribe to our bi-weekly news letter.Our mailing list is free, opting out is easy and we don't send spam.
Featured Articles



Do you want to advertise your website, product or service through ReadTheSmiths.com? That's certainly possible!
We work together with a few of the largest ad networks worldwide. Geo-targeted advertising is supported.
If you want us to make you a custom advertising offer, contact us at info@readthesmiths.com!
If you'd like to share your article with the visitors of ReadTheSmiths.com, we invite you to send us an email with your submission. We'd love to publish it!
You can also write us if you have a suggestion or general feedback. We look forward to hearing from you!

This website is run by professional writers Donna Smith (1965) and Julie Michelle Smith (1979) and their families.
Donna and Julie Michelle write mostly about health, travel and beauty related issues, while their husbands, parents and children write about tech, finance and entertainment.