Amazing Olympic Architecture in Beijing, China
By: Donna Smith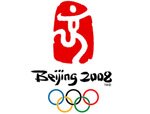 The games have begun!
The capital of China has seized the opportunity to amaze the rest of the world with fantastic Chinese architecture. We've listed our favorites.
1. National Centre for the Performing Arts ("The Egg")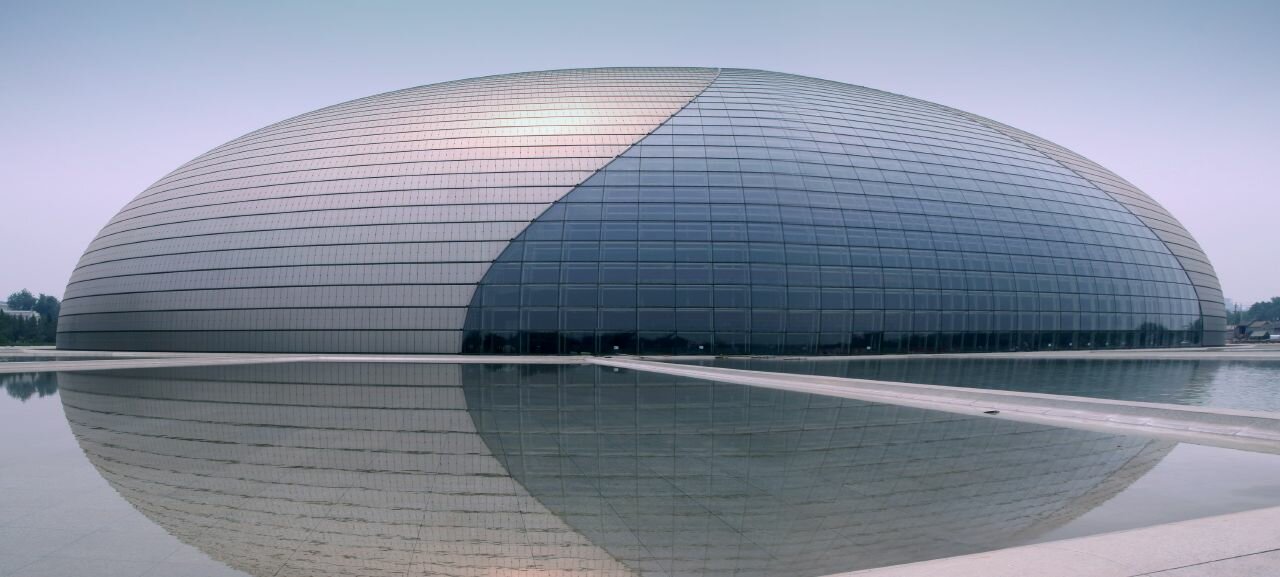 The Centre, an ellipsoid dome of titanium and glass surrounded by an artificial lake, seats 6,500 people in three halls and is 200,000 m² in size. It was designed by French architect Paul Andreu. Construction started in December 2001 and the inaugural concert was held in December 2007.
The dome measures 212 meters in east-west direction, 144 meters in north-south direction, and is 46 meters high. The main entrance is at the north side. Guests arrive in the building after walking through a hallway that goes underneath the lake. The titanium shell is broken by a glass curtain in north-south direction that gradually widens from top to bottom.
More images:
2. Beijing National Stadium ("The Bird's Nest")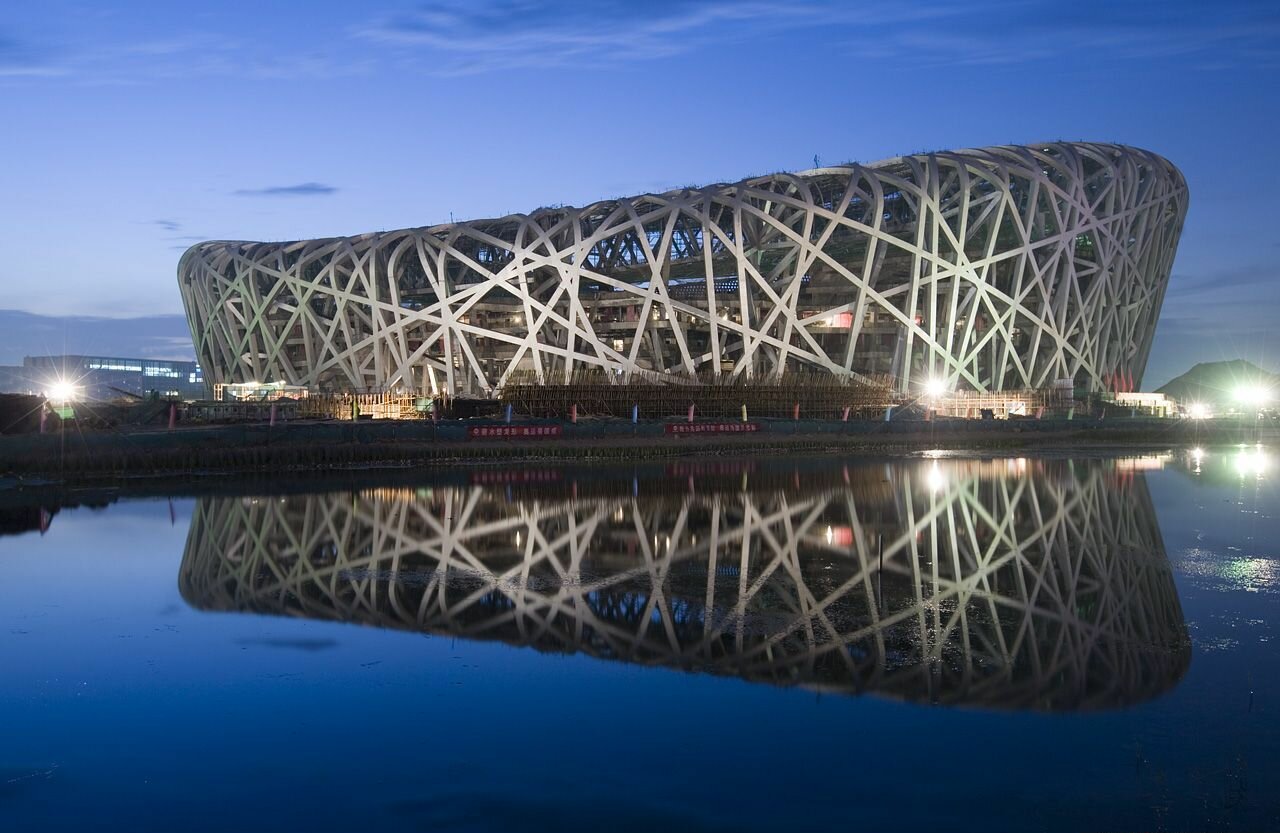 The Beijing National Stadium is a stadium finished for the Olympic Green in Beijing, China that has so far been completed as of March 2008. The stadium will host the main track and field competitions for the 2008 Summer Olympics, as well as the opening and closing ceremonies. It is located east of the Beijing National Aquatics Centre.
The stadium can seat as many as 91,000 spectators during the Olympics. The capacity will then be reduced to 80,000 after the Games. It has replaced the original intended venue of the Guangdong Olympic Stadium.
In January 2008, concerns about construction working conditions arose when it was revealed that 2 workers had died during the stadium's construction.
More images:
3. CCTV Headquarters ("Twisted Donut")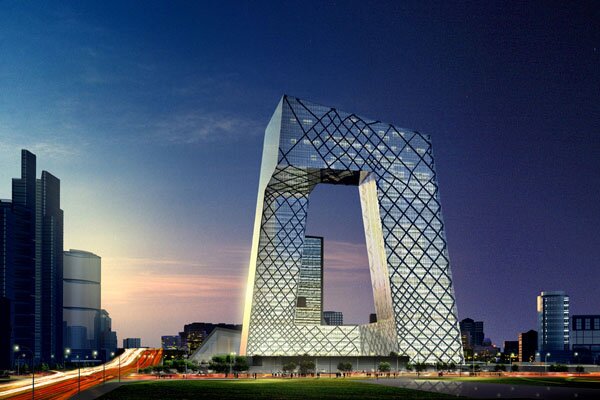 The CCTV Headquarters is a skyscraper that is currently under construction in Beijing, China. The building will be the new headquarters of China Central Television. Groundbreaking took place on September 22, 2004. The building will be completed in December 2009.
The main building is not a traditional tower, but a continuous loop of five horizontal and vertical sections covering 4,100,000 square feet of floor space, creating an irregular grid on the building's facade with an open center. The construction of the building is considered to be a structural challenge, especially because it is in a seismic zone. Because of its radical shape, it has acquired nicknames such as "Twisted Donut" and "The Pants" by locals.
More images:
4. Television Cultural Center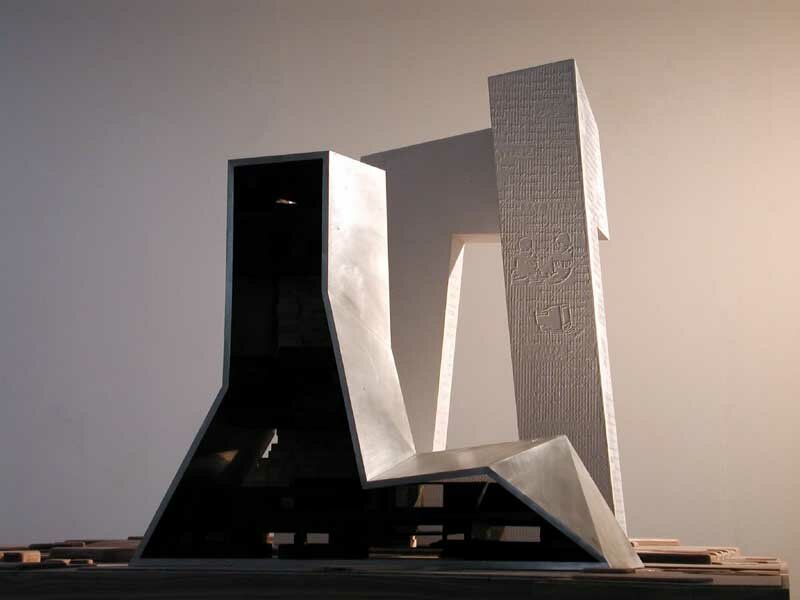 The 115 000m² Television Cultural Center (TVCC) that will stand next to the China Central Television (CCTV) building, will house an ultramodern hotel. With 300 rooms it will provide accommodation for visitors to the Chinese broadcasting organization.
TVCC consists of two towers containing the hotel, and a collection of separate buildings that will house a theatre, digital cinema, exhibition hall, recording studios, and audiovisual rooms. These are covered by a long-span space frame roof that wraps up and over the hotel to form a canopy for the whole development.
More images:
5. Beijing National Aquatics Center ("The Water Cube")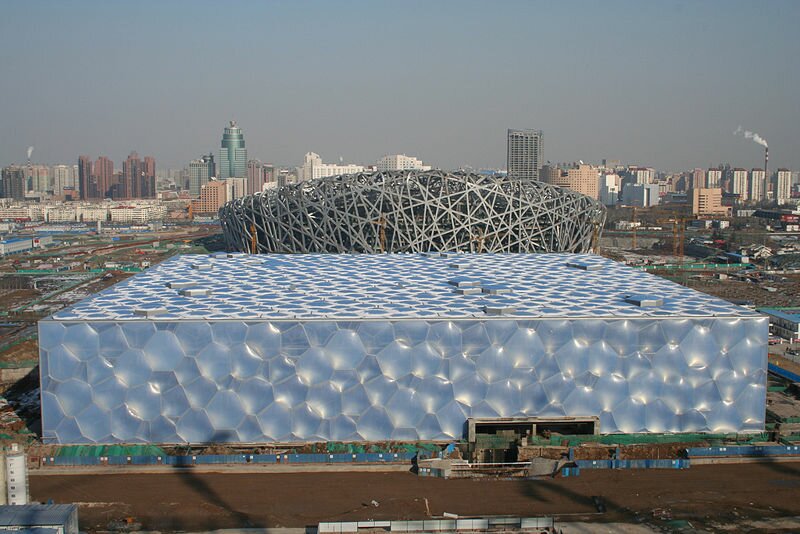 The aquatics center was built alongside Beijing National Stadium in the Olympic Green for the 2008 Summer Olympics. Ground was broken on December 24, 2003.
Comprising a steel space frame, it is the largest ETFE clad structure in the world with over 100,000 m² of ETFE pillows that are only eight one-thousandths of an inch in total thickness. The ETFE cladding allows more light and heat penetration than traditional glass, resulting in a 30% decrease in energy costs.
The outer wall is based on the Weaire-Phelan structure, a foam (structure formed by soap bubbles). The pattern is formed by taking a slice through the foam, and it was chosen in preference to the Kelvin foam because the more complex Weaire-Phelan structure results in more irregular, organic patterns than slices through the regular Kelvin foam.
The structure will have a capacity of 17,000 during the games that will be reduced to 6,000 afterwards. It also has a total land surface of 65,000 square metres and will cover a total of 7.8 acres.
More images:





Have something to add to this article? Email the author!
Special Attention

Amazing Olympic Architecture in Beijing, China
By: Donna Smith

Read full article
Be first to read new articles and subscribe to our bi-weekly news letter.Our mailing list is free, opting out is easy and we don't send spam.
Featured Articles



Do you want to advertise your website, product or service through ReadTheSmiths.com? That's certainly possible!
We work together with a few of the largest ad networks worldwide. Geo-targeted advertising is supported.
If you want us to make you a custom advertising offer, contact us at info@readthesmiths.com!
If you'd like to share your article with the visitors of ReadTheSmiths.com, we invite you to send us an email with your submission. We'd love to publish it!
You can also write us if you have a suggestion or general feedback. We look forward to hearing from you!

This website is run by professional writers Donna Smith (1965) and Julie Michelle Smith (1979) and their families.
Donna and Julie Michelle write mostly about health, travel and beauty related issues, while their husbands, parents and children write about tech, finance and entertainment.