The Ten Most Fantastic Hybrid Animals
By: Robert P.
5. The Liger (Lion and Tiger)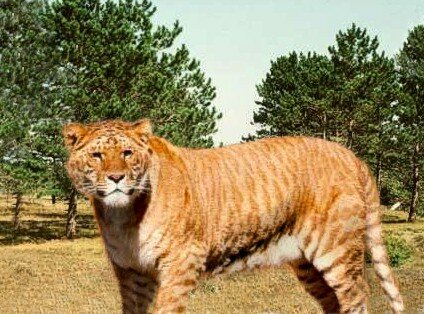 The liger is the largest cat in the world.
The Liger is a hybrid cross between a male lion and a female tiger. A liger resembles a tiger with diffused stripes. They are the largest cats in the world. A similar hybrid, the offspring of a male tiger and a female lion is called a tigon. Ligers may inherit rosettes from the lion parent. These markings may be black, dark brown or sandy. The background color may be correspondingly tawny, sandy or golden.
According to the Association of Zoos and Aquariums, accredited zoos frown on the practice of mixing two different species and have never bred ligers. Keeping the two species separate has always been standard procedure. However they have admitted that ligers have occurred by accident.
4. The Beefalo (Cow and Bison)
The beefalo was created with a view towards beef production.
Beefalo are a fertile hybrid offspring of domestic cattle and the American Bison. The breed was created to combine the best characteristics of both animals with a view towards beef production. Creating the Beefalo has proved to be a serious setback to wild American Bison conservation. The current American Bison population has been growing rapidly and is estimated at 350,000, but this is compared to an estimated 60–100 million in the mid-19th century.
3. Grizzly–Polar Bear Hybrid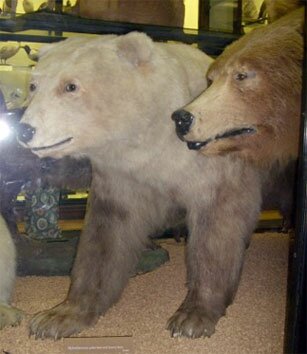 Polar/Brown Bear Hybrid, Rothschild Museum, Tring, UK.
A Grizzly polar bear hybrid is a hybrid that has occurred both in captivity and in the wild. In 2006, the occurrence of this hybrid in nature was confirmed by testing the DNA of a strange-looking bear that had been shot in the Canadian arctic. Previously, the hybrid had been produced in zoos and was considered a "cryptid" (a hypothesized animal for which there is no scientific proof of existence in the wild). Polar bear hybrids with Grizzly bears have been reported and shot, but DNA techniques were not available to verify the bears' ancestry.
2. Leopon (Leopard and Lion)
A leopon is the result of breeding a male leopard with a female lion. The head of the animal is similar to that of a lion while the rest of the body carries similarities to leopards. They have been bred in zoos in Japan, Germany, and Italy. The leopon has the size and strength of a lion. But, unlike the lion, they have extraordinary climbing abilities like the leopard. The female leopons may be torn between the solitary nature of the leopard and the social nature of a lioness.
1. The Iron Age Pig (Pig and Wild Boar)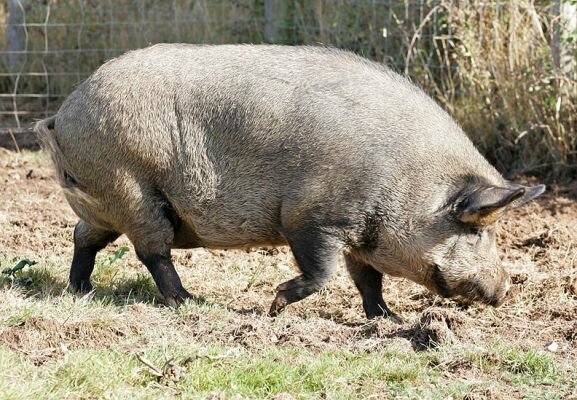 The iron age pig - bred for the specialty meat market.
The Iron age pig is a hybrid between domestic Tamworth pigs and wild boar. They were originally created in order to reconstruct the European prehistoric pig that existed in ancient Europe thousands of years ago. The hybrids are tamer than wild boar but less tractable than domestic swine and generally become specialist pork sausages. Most of them are bred for the specialist meat trade.





Have something to add to this article? Email the author!
Special Attention

[American Idol] Where Are They Now?
By: Vicky S.

Read full article
Be first to read new articles and subscribe to our bi-weekly news letter.Our mailing list is free, opting out is easy and we don't send spam.
Featured Articles



Do you want to advertise your website, product or service through ReadTheSmiths.com? That's certainly possible!
We work together with a few of the largest ad networks worldwide. Geo-targeted advertising is supported.
If you want us to make you a custom advertising offer, contact us at info@readthesmiths.com!
If you'd like to share your article with the visitors of ReadTheSmiths.com, we invite you to send us an email with your submission. We'd love to publish it!
You can also write us if you have a suggestion or general feedback. We look forward to hearing from you!

This website is run by professional writers Donna Smith (1965) and Julie Michelle Smith (1979) and their families.
Donna and Julie Michelle write mostly about health, travel and beauty related issues, while their husbands, parents and children write about tech, finance and entertainment.